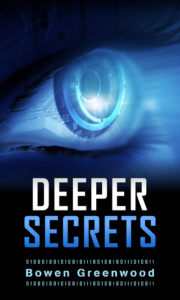 For long-time fans of the series, some of these might be a reunion, but for new readers, let's take a look at the four main people caught up in the events of my new political thriller Deeper Secrets!
Ben Wiles: A young Congressional aide bucking to advance. With an ambitious Congressman and a Chief of Staff who might be more than he appears, Ben's road to the top in politics looks long and rocky. But when he interrupts a murder in a grimy back alley in Washington D.C., his career and his very life are in danger.
Colleen Cristina: a cyber security consultant wide-eyed at her first inside look at politics. Once she worked on the cutting edge of artificially intelligent software, but walked away when she developed ethical concerns about the system's power. Now she's an independent consultant hired to deal with a computer virus no one else can stop. Risking her life wasn't in the job description.
Senator Mike Vincent: rising political star trying to change the system for the better. He wants to be President, but the insiders just want him gone. When the cyber attack on his campaign turns all too real, Vincent must decide whether his cause is worth his life, and that of the people around him.
Alyssa Barr: last heir of one of America's great political families, and the real fundraising power behind Vincent's campaign. She glides easily down the halls of power, never giving a hint of the secrets she's seen and kept. But Alyssa has her own dark past, and leaving it behind won't be easy.
Interested? You can sign up here to get an e-mail when Deeper Secrets is released. You even get the prequel novel for free just for signing up!
Or, you can follow Bowen Greenwood on BookBub to get an alert when Deeper Secrets comes out.
---------------
Read this and other books reviewed on my site free when you
join Amazon Kindle Unlimited 30-Day Free Trial