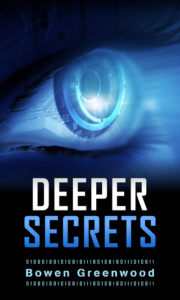 A string of terrorist bombings rocks the nation's capital. A young congressional aide interrupts a murder in a grimy Washington alley. A mysterious, unstoppable computer virus upends the race for the White House. The response: a powerful new computer system that reads everyone's posts, emails, tweets, and more, then decides who's a threat. But this technology has power beyond anyone's nightmares, and democracy itself is caught in the crossfire.
To be the first to hear when Deeper Secrets is released, sign up here! You even get a free prequel novel for subscribing.
Or follow me on BookBub, and you'll get an alert when Deeper Secrets is released.
---------------
Read this and other books reviewed on my site free when you
join Amazon Kindle Unlimited 30-Day Free Trial